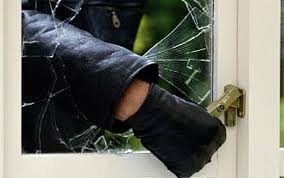 Police in Derry are appealing for information following four burglaries in the area in the past few days.
Sometime between 5pm and 10.40pm on Saturday 29 August, a house in Hollymount Park was broken into. A sum of money and jewellery was taken. Sometime between 6pm and 10.25pm on the same day, another house in the same street was broken into.
At this time, it is not believed that anything was taken. These two burglaries are being linked.
Sometime between 6pm on Friday 28 August and 1pm on Saturday 29 August, a house in the Elm Close area of Derry was broken into.
A television, a games console, a laptop and a pair of children's shoes were taken.
A sum of money, a set of car keys and some jewellery was taken from a house in the Mill Path area of Eglinton, sometime between Thursday 27 August and Sunday 30 August.
Detectives are appealing to anyone who knows anything about these incidents, or who noticed any suspicious activity, to contact Strand Road Police Station on the non emergency number 101.
They are also appealing to all householders to take steps to protect their homes:
"It is important that householders take sensible precautions to deter those involved in this type of crime. Crime prevention doesn't have to be expensive; indeed the first step costs nothing and involves nothing more than making sure that all the windows and doors are closed and properly locked, each time you leave your house-even if you're in the back garden.
"Looking after your belongings is what it is all about, and it is a good idea to keep a note of serial numbers, and to indelibly mark your property in a way that makes it unique to you. This makes it more difficult for criminals to re-sell your possessions, and it also makes it easier to identify your property, in the event it is stolen and subsequently recovered.
I would also ask anyone who notices suspicious activity in their neighbourhood to call us immediately as this could prevent someone from becoming a victim of crime."