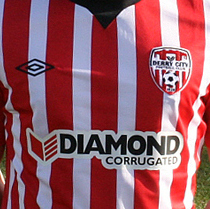 Derry City have completed the signing of defender Ben McLaughlin.
The former Everton U21 player, who is grandson of treble winning ex-Derry boss Jim, has signed until the end of the season.
City boss Peter Hutton was happy to have added the 20-year-old to his squad.
"We're delighted to finally get it done. Ben was keen to come and sign until the end of the season and just get his career going again.
"He is naturally a right back and can play right wing-back as well. He brings that versatility which is good because we still have such a small squad.
"There's nothing stopping him getting his confidence back again at Derry after leaving Everton. He can get playing again on a regular basis and possibly get back across the water again further down the line."