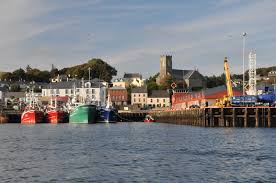 The 27-year-old trawler fumes victim who has died in hospital has been named by gardai as James Joyce from Pump Rd, Inis More in the Aran Islands.
The 46-year-old Filipino working with him was said to be still in a serious condition in intensive care in Letterkenny General Hospital.
Fumes from stagnant water is believed to have caused Mr Joyce's death, although the incident is still being investigated by officers from the Marine Casualty Investigation Board.
Mr Joyce died around 10.30 on Monday night in Letterkenny Hospital.
Both men were overcome by fumes on Monday afternoon on the Galway-registered Oilean an Oir in Killybegs, Co. Donegal.
They were cleaning tanks in a refrigeration unit when the Galway man fell into the hold and the Filipino was also overcome with fumes when he tried to aid him after calling for help from other crew-members.