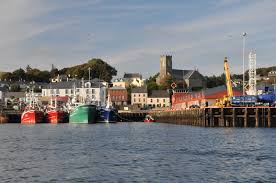 Two fishermen have been rushed to Letterkenny General Hospital after an incident at Killybegs pier.
The incident is said to have happened earlier this afternoon.
The two men were cleaning the Galway fishing vessel they were both working on when they were  overcome with fumes.
One man is believed to be from Galway, the other a native of the Philippines.
The pier is currently blocked off to the public and Gardai are at the scene.
Local Councillor Niamh Kennedy was at the scene a short time ago: