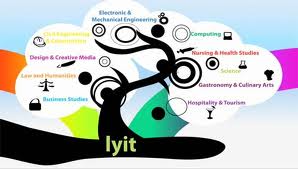 The number of CAO courses requiring 500 or more points has jumped by more than a quarter.
Around 50 thousand offers have just been made available online in this year's first round, following last week's Leaving Cert results.
Growth in demand for places has been mirrored in areas of the economy that have been on the rise, like business and engineering, as students look to target careers after third-level.
Prospective students now have a week to accept the places offered this morning and join the some 210-thousand people already in higher education.
Letterkenny Institute of Technology has seen increases in the requirments for a number of its courses, with the steepest Level 8 increase in General Entry Computing, up 65 to 300.
Here is the full list of points requirements for LYIT -
* Not all on this points score were offered places
# Test / Interview / Portfolio / Audition
AQA All qualified applicants
LY108    Business - Accounting   335
LY218     Business - with French/Spanish/German/Irish  250
LY228    Sports Coaching and Performance    250
LY318    Culinary Arts and Food Technology at Killybegs/Letterkenny   283
LY408     Visual Communication and Graphic Design  290
LY508     Fire Safety Engineering    220
LY518     Quantity Surveying   285
LY708     Computing (Common Entry)    300
LY818     Science - Common Entry    305
LY908    General Nursing   390*
LY918     Psychiatric Nursing    380
LY928     Intellectual Disability Nursing    350
LY938     Mature Applicants General Nursing
LY948     Mature Applicants Psychiatric Nursing
LY958     Mature Applicants Intellectual Disability Nursing
LY968     Early Childhood Care, Health and Education   275
LY978     Health and Social Care     300
LY106     Business - Accounting and Administration   105
LY107     Business - Management      140
LY117      Administration and IT      160
LY127      Business - Marketing       155
LY206      Sports Studies       AQA
LY207      Law with Criminal Justice/Irish/French/German/Spanish
LY306     Hotel Administration at Killybegs      110
LY317      Culinary Arts at Killybegs           155
LY327      Hotel Restaurant and Resort Management at Killybegs
LY336      Bar and Restaurant Supervision at Killybegs    AQA
LY346      Culinary Arts at Killybegs    100
LY406      Photography       100
LY427       Digital Media Design       150
LY437        Animation       150
LY447        Fashion with Promotion       155
LY507        Quantity Surveying       160
LY517        Building Services and Renewable Energy    160
LY527        Civil Engineering     175
LY547        Architectural Technology     145
LY607       Electronic/Computer Engineering (Common Entry)  155
LY617        Mechanical Engineering        160
LY707        Computer Games Development       190
LY717         Computing         150
LY737         Computer Security and Digital Forensics      160
LY806         Pharmacy Technician        175
LY816          Dental Nursing            200
LY817          Bioscience         195
LY837          Food Science and Nutrition      145
LY847          Veterinary Nursing         375
LY867          Pharmaceutical and Medicinal Science      170
LY877          Agriculture       170
LY906         Early Childhood Care, Health and Education    200
LY916          Health and Social Care        200