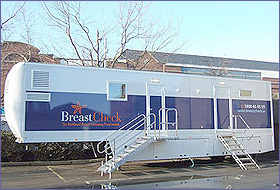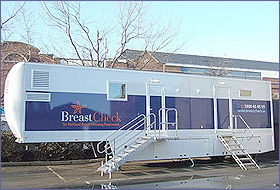 It's been confirmed that the BreastCheck service is not returning to Buncrana.
Donegal Action for Cancer Care say they have very serious concerns for women n the Inishowen area who are due to have their free BreastCheck Mammogram this year, claiming that they will now be forced to travel to Letterkenny.
DACC say they raised concerns with BreastCheck in May, and were told at that point that there were no known plans to remove the service from Inishowen.
However, they have now received written confirmation of the decision to concentrate the service in Letterkenny.
Spokesperson Betty Holmes says this could potentially affect many women aged from 50 to 65......
E-mail received by Betty Holmes from BreastCheck -
When you last contacted us in May, the intention was to return to Buncrana with a mobile unit. However, screening schedules are subject to change and it was recently agreed to focus on one location in Donegal. By doing this we can ensure that women living in the Inishowen Peninsula are screened sooner, so that the benefit of their last screening appointment is not negated by an overdue appointment. You are aware of how important it is to re-screen women every two years (within 24-27 months).  
The mobile unit in Letterkenny is operational five days a week. BreastCheck does not always return to the same screening locations, in any county. Operational decisions are taken to make the best use of the resources available. BreastCheck began screening in the county in 2009 and has had a continuous presence ever since in Donegal.
During the first round of screening in 2009, women living in the Inishowen Peninsula were invited to Letterkenny for their mammogram. In the second and third rounds (2011 and 2013) a mobile unit was located in Buncrana. For this round (2015) women are again being invited to Letterkenny. The vast majority of women in the area being invited for screening during this round, will have been screened in Letterkenny previously.
We hope that women can see that while there is a longer journey for this round, it is a journey that is only made once every two years and that the risk of waiting any longer outweighs the disadvantage of the location. So far, we have had no  negative feedback however, any support you can give us in getting this message to women would be appreciated.
All women living in the greater Inishowen area will have been invited for screening  by year-end.
Once screening in Letterkenny is complete, the mobile will move to Donegal town.
The programme is closely monitoring uptakes and to date, there have been no negative impacts on attendance by inviting women to Letterkenny. As usual, any woman who receives an appointment for a time or date that doesn't suit her, can have her appointment easily rearranged.
I've checked with the info line and we haven't had any calls or complaints regarding this change. However, please feel free to pass on our Freephone number 1800 45 45 55 to any woman who contacts you.