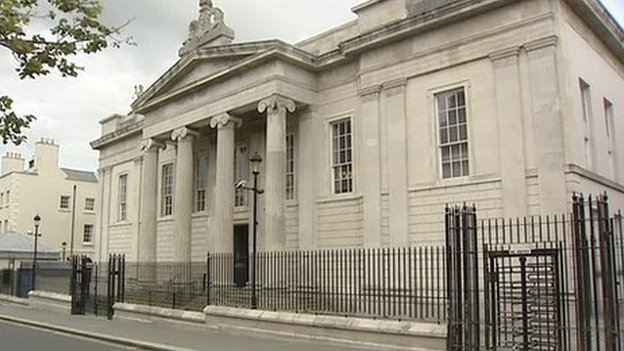 Derry Magistrate's Court has heard how a man told children he was going to throw their mother down the stairs.
39 year old Terence Doherty of 30, Dunluce Court in Derry admitted a series of offences including assaults on police and disorderly behaviour.
The court was told that on July 12 this year Doherty's former partner phoned police to report he had wrecked her house.
She told police that Doherty had arrived requesting to see his child and there were no problems initially.
However after about an hour Doherty came into the bedroom where the injured party was with two of her children and jumped on the bed.
He pushed the injured party off the bed and then asked the children would they like to see their mother thrown down the stairs.
He also threw an iPhone 6 to the ground smashing the screen and damaged bannister.
The woman managed to get Doherty out of the house but he banged on the door and windows.
When police arrested Doherty they took him to Altnagelvin Hospital where he caused a nuisance and staff asked for him to be held in a police vehicle until they could deal with him.
Doherty asked to use a toilet and when police removed handcuffs he spat at one officer and then spat blood at another.
The court also heard about an incident on March 21 when Doherty was disorderly and shouted at police at 3 a.m.
When he was arrested he struggled and was placed directly in a police cell when handcuffs were being removed he headbutted an officer.
Defence counsel Mr. Paul Kearney said Doherty was no stranger to the court.
He said he had been a skilled footballer who played for Derry City and Omagh Town before 'issues interfered with what would have been a successful career.'
District Judge Barney McElholm said that Doherty had 147 previous conviction and had offended in 'a disgraceful way.'
Doherty was jailed for 9 months.