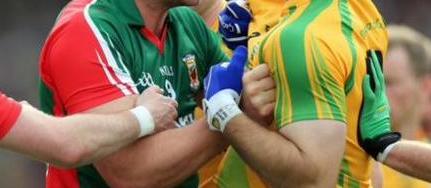 Former Donegal player John Haran and ex Mayo All-Star defender Kenneth Mortimer look ahead to the big game and give their verdict to Tom Comack.
1997, All-Star corner back, Mortimer, feels Mayo are the fresher of the two teams, having played two games to Donegal's five and this he feels should tilt the scales in favour of his native county, in what he sees as an intriguing contest.
Meanwhile, John Haran admits to letting his heart rule his head and argues if Eamon McGee and Karl Lacey are fit to play, that he feels there is a big game in Donegal and that Rory Gallagher's charges still have the hunger for more success.
And for the curtain-raiser meeting of Tyrone and Ulster champions Monaghan, both John and Kenneth feel the momentum is with the Red Hands and have tipped Tyrone, to cause something of an upset and topple the Ulster champions, Monaghan.