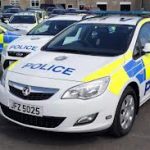 Police investigating the murder of Paul McCauley in Derry are conducting a leaflet drop in parts of the city this morning.
Uniformed officers are distributing leaflets to properties in the Fountain estate and in the Irish Street area, close to the scene of the attack in 2006.
In a statement this afternoon, police say enquiries are progressing with a focussed momentum. A total of six people have been arrested since Paul died last month. One man has been charged with murder; another will be reported to the Public Prosecution Service; the other four individuals have been released on police bail pending further enquiries.
They say today's leaflet drop is part of their renewed attempts to reach out to those individuals believed to have information about the attack on Paul and his friends and those involved.
Paul died last month in a care facility almost nine years after an attack in July 2006. He was attending a summer BBQ at the rear of a house in Chapel Road in July 2006 when he and two friends were attacked by a gang of 15 people at around quarter past three on the morning of July 16th.