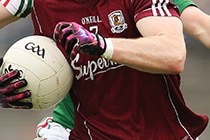 Galway have made one change from the Derry victory for Saturday's Round 4B Qualifier with Donegal at Croke Park.
Adrian Varley has been named to start at right corner forward replacing Peader Og O Griofa.
Galway team to Donegal.
1 Brian O'Donoghue;
2 Johnny Duane, 3 Finian Hanley, 4 Cathal Sweeney;
5 Liam Silke, 6 Gary O'Donnell, 7 Gareth Bradshaw;
8 Fiontan Ó Curraoin, 9 Thomas Flynn;
10 Gary Sice, 11 Paul Conroy, 12 Michael Lundy;
13 Adrian Varley, 14 Damien Comer, 15 Danny Cummins.