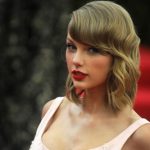 Taylor Swift has been introduced to her new godson by her pal Jaime King.
The Bad Blood singer met adorable baby Leo Thames less than two weeks after Jaime announced the birth of her little boy.
Taylor shared a cute photo on Instagram of her looking down on the sleeping little one while Hart of Dixie actress Jaime looked on. It came with the caption: "Meeting my boy."
Jaime shared the same picture with the caption: "My loves meet. Baby boy Leo Thames and his Godd Mother = Bliss. X"
Taylor also posted another snap of Leo's hand wrapped around her finger captioned with lyrics from her single Never Grow Up,
saying: "Your little hand's wrapped around my finger and it's so quiet in the world tonight."
Earlier this year Jaime told E! News: "I always thought if I were to have another child that she would be the ideal godmother because the way she not only treats me but the way she treats other human beings.
"She's so loving and so giving and so generous and she does everything from her heart and she's incredibly brave and authentic. It's a very rare thing to come across."
"I know that [our baby] will always have a very good person and role model through her."