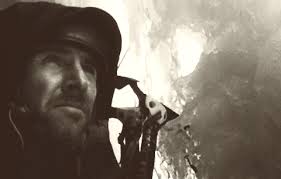 After a series of setbacks Jason Black has decided to abandon his bid to climb the K2 Mountain.
The team were to begin their summit push today but had to scrap those plans when all of their equipment was lost in an avalanche.
Poor weather was also hampering the attempt.
Jason confirmed the news to return home in a blog post today in which he outlined the highs and lows of a 'crazy emotional roller coaster. The full text of the blog can be read below:
Monday 27th July Over the last few days and nights ive been riding a crazy emotional roller coaster of highs and lows unimaginable on K2. Starting out with the highs of weeks of seriously hard work climbing super high carrying heavy loads preparing the route to the summit with ropes ,tents, food oxygen and everything in between required for a successful push to the top of the toughest mountain in the world K2 to enduring the uncertain weather patterns of a very angry mountain weeping incredibly. This morning i can confirm that after days of frantic digging we have recovered some of the teams technical climbing equipment but most is damaged due to the sheer force beyond use , helmets crushed, crampons twisted, ice axes bent etc …..to add fuel to the now blazing fire i can also confirm camp three 7.300mts is totally destroyed everything is gone in what looked like a violent rock filled Avalanche, taking with it the tents, high altitude food, sleeping bags and high altitude clothing and more devastating the oxygen needed to survive above camp three, hanging our heads in our hands all that weeks and weeks of work carrying the gear into route position to be wiped out in one fawl swoop. As I've mentioned in earlier blogs that we would have been climbing from cam two to camp three at exactly the him this violent killing machine Avalanche stuck….mind blowing. The Abruzzi route to the summit of K2 lays now in tatters ….it's just heart breaking. K2 lives up to its reputation as the stage mountain as I've witnessed the good the bad and the very ugly on this heart breaking expedition. Last night Sunday we had a team meeting and it's decided that it's over K2 has proven impossible to climb this year, Mother Nature and the mountain of K2 has spoken and we must listen, listen not and we pay the ultimate price. As i type this is hitting home with a tear in my eye it's reality…it's over, the painstaking preparation ,years of training mentally & physically ,all the sacrifices…..I can truly say i have given it my all and with my team members, we stood shoulder to shoulder in the pursuit of summit success on this magnificent mountain ,not a single stone was left unturned….. Today i will look at this objectively, learn from it humbly, Smile in the face of adversity positively and move on wiser and smarter than before… The wild forces us to live in the present ,and it doesn't care about our past or future. It makes us a little vulnerable – and it's hard to hide who we really are. And therein lies the beauty, We can't pretent for long….what is important in life becomes the stuff that really matters on lives mountain…I've so any people to thank for helping me prepare for supporting my decisions that I stand on the shoulders of great people in my hometown that allow me to see further…for that I'm forever great full. Tonight i reflect on this powerful expedition and tomorrow turn bitter lemons into lemonade… Thank you all for the wonderful support I'm coming home….proud & humbled. Jason