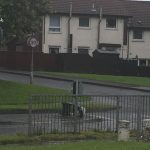 Residents in Derry's Moss Park say they are sickened after another night of vandalism in the area.
Street lights were smashed, lights on the main Glengalliagh Road were damaged, and fires were started on a number of green areas last night.
Speaking to Highland Radio News from Moss Park this afternoon, Councillor Sandra Duffy said it's ridiculous that at a time when community organisations are trying to improve and enhance the area, a very small minority seem intent on trying to wreck it..............