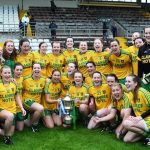 Donegal  2-12 Monaghan 1-10
Donegal Ladies took their 1st Ulster Senior title with a 5 point victory over former All Ireland Champions, Monaghan.
Donegal got off to a good start and led by 0-7 to 0-3 at Half Time.
A goal by Geraldine McLaughlin early in the 2nd half set Donegal up for Victory.  They did have to withstand a penalty goal for Monaghan but a second Geraldine McLaughlin goal eased the pressure and the Donegal defence held firm for victory.
Donegal will play the winner of the Westmeath Armagh qualifying game in the All Ireland Quarter Final.
Oisin Kelly speaks to Donegal Manager Davy McLaughlin after the match ......
Oisin also spoke to Player Katie Heron ......