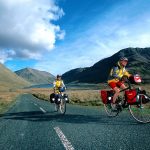 The 4th Errigal International Youth Tour will take place on August Bank Holiday weekend, and Errigal Cycling Club are now accepting entries from teams and individuals.
The Errigal International Youth Tour is a festival of competitive cycle racing for boys born 1999 to July 2005 and girls born 1997 to July 2005, and is the premier youth event on the Irish Cycling calendar.
Last year, over 240 young riders took part having traveled from all over Ireland, the UK and as far afield as Malta.
Entries for this years Youth Tour are now invited from both individuals and teams, for more information contact James Harkin (Race Director) on 0876771566 or visit www.errigalcyclingclub.com.
James Harkin spoke to Kenny Harkin on Highland Sport, where he strongly recommended the event.