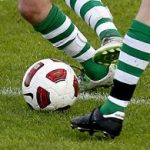 The Ulster Senior League has been reduced to six teams for the coming season following the withdrawal of Drumkeen Utd on Thursday.
It's another blow for the USL with the committee once again having to rethink their format.
League Registrar Dessie Kelly has suggested in Friday's Donegal News that the league could be incorporated into an Intermediate Division of the Donegal League.
Highland's Soccer Correspondent Diarmaid Doherty says it may be a logical move....