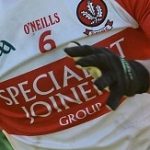 Derry lost 1-19 to 0-17 against Antrim in Wednesday evenings Ulster U21 Hurling Final.
In a highly entertaining game the Saffrons had to hold off a strong Derry side at Ballinascreen.
Deaglan Foley top scorer for Derry with 0-11 from dead balls.
It was a 7th title in a row for Antrim while Derry haven't won a provincial title at this level since 2008.