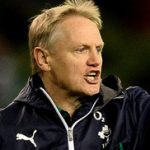 Joe Schmidt has committed himself to Irish rugby for at least another two years.
The IRFU has announced that the 49-year-old New Zealander has signed a contract extension that will see him remain in charge as Ireland head coach up until the end of June, 2017.
The Union had been engaged in contract negotiations with the former Leinster coach since he led the team to a second consecutive Six Nations title in March.
The Union's Performance Director, David Nucifora has described Schmidt as "one of the leading coaches in world rugby" and says that Schmidt has also "contributed to the development of indigenous coaches across the provincial and underage structures as well as having a positive input into the Ireland Under-20s and Women's squads."