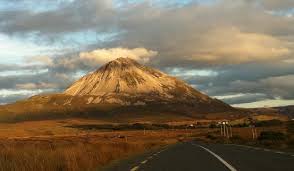 A consultant has begun assessing problems with the access path to Errigal Mountain, with a public consultation to take place in Dunlewey at the weekend.
Chris York from the Scottish company "Walking the Talk" is currently surveying the mountain, will be available to meet people at the Dunlewey Community Centre between 4pm and 7pm on Saturday, with a presentation on the challenges facing the mountain at half past six.
Mr York says so many people are walking on the mountain that erosion is becoming an issue, and that needs to be considered now...........
Meanwhile, Chris York is looking to gather as many pictures of the mountain taken over the years to track how the mountain has changed. Pictures can be e-mailed to errigal@walking-the-talk.co.uk, or brought to Dunlewey on Saturday.