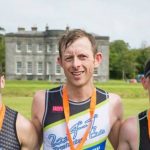 Sligo's Lissadell House played host to Round 3 of the Triathlon Ireland Super Series on Sunday. Aidan Callaghan from Letterkenny's 24/7 Triathlon Club claimed the men's title with Dublin based Eimear Fitzmaurice taking the women's title ahead of a stacked field.
Callaghan clocked 18:33 for the 1500 metre swim, 1:03:32 for the testing 40 kilometre bike before posting a strong run over the 10 kilometres to finish in a time of 1:59:36.
"it was a tough, tough race. This morning the conditions were pretty rough, looking out at the sea after the finish it's calm, but this morning is was rough." Callaghan told reporters at the finish line.
Omagh native Bernard McCullagh finished 2nd with Stephen Donnelly in 3rd.