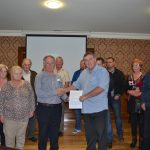 An agreement between MBC Builders (Gildea), Ballybofey and Inishowen groups opposed to water meters has been reached following a meeting held in An Grianan Hotel, Burt, Co Donegal on Thursday 16th July. The meeting came about as a result of John Gildea, MBC Builders, recently contacting James Quigley, a local anti water charge campaigner from Buncrana.
MBC Builders is one of two subcontractors contracted by GMC Sierra Ltd to install meter ready boundary boxes in place of old water stopcocks in the area. GMC Sierra Ltd have the main contract from Irish Water to install water meters throughout the north/north west of Ireland from Mayo to Donegal.
At the meeting John Gildea of MBC Builders agreed that no work will be carried out on properties in Inishowen which have a sign up, indicating that they do not want a meter. The Inishowen groups agreed that they will not oppose MBC Builders working on properties which don't have a sign up. The agreement is subject to the following conditions;
1. MBC Builders will not work on properties who have a sign up indicating that they do not want a water meter installed.
2. MBC Builders personnel will not try to coax or by any mean persuade any residents who does not want a meter or who has a sign up indicating so, to change their minds .
3. MBC Builders will notify an anti water charge campaigner at least the night before work starts in any particular area.
4. All work will be carried out within socially accepted times 7.30am-7.30pm Mon-Fri and 8am to 1pm Sat.