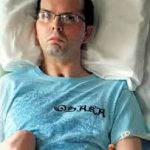 Police in Derry have arrested a 24-year-old man on suspicion of the murder of Paul Mc Cauley.
Mr McCauley, who was 38,  died last month in a care facility, nine years after he was severely beaten in a sectarian attack while attending a barbeque in the Chapel Road area.
The suspect was arrested in the Fountain area this morning.
The investigation into the attack, which involved around 15 people, has been stepped up since Mr Mc Cauley's death  in June.