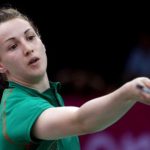 All of the Irish medalist's from Baku are in Nigeria for the Lagos International Challenge.
Ireland will be represented in the women's singles by world number 42 Chloe Magee, Chloe will partner Sam Magee in the mixed doubles where they are the number 1 seeds. Joshua Magee is playing singles and will also be playing men's doubles with his brother Sam. Chloe and Sam will be looking to build on their mixed doubles success from Russia two weeks ago and follow up with a good performance in Nigeria to help them in their fight to qualify for Rio 2016.
First up for the Irish on Friday will be Joshua Magee against number 6 seed world number 76 Yuhan Tan of Belgium. Chloe is the number 4 seed in Lagos and is up against Ogar Siamupangila of Zambia in her first match. The Magee brothers of Joshua and Sam will also be on court on Friday against locals Idowu Adekunle and Tobi Owalabi. Chloe and Sam are seeded 1 in the mixed doubles but will only play their first match on Friday against Idowu Adekunle and Asisat Ogunkanbi of Nigeria. The
siblings are looking for a good result in Nigeria to build on their world ranking of 22.
This is the Magees first time to the African continent and they are hoping to make their presence known. As this is an Olympic qualifying tournament and also an International Challenge, there are players from 30 countries currently competing in Nigeria which is by far the most any African tournament has ever had. Competition will be hot; on and off the court with temperatures around 30 degrees.