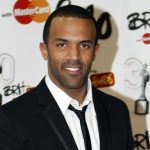 Craig David has revealed he has forgiven Leigh Francis for making a mockery out of him in Bo' Selecta!.
The RnB singer has previously told how he felt "hurt" by the comedian's sketches about him and claimed they damaged his career.
But in a new interview with the Daily Mirror, Craig, 34, told how he buried the hatchet with Celebrity Juice star Leigh, aka Keith Lemon, at the wedding of mutual friend Fearne Cotton.
Craig explained: "Fearne is such a sweet girl and obviously a friend of both of ours so I knew he was going to be there. When I walked in, there was all this tension in the room, so I went straight over, and could see Leigh looking nervous about what I was going to say.
"But I gave him a huge hug, and said: 'I don't know how it's all escalated to this but I just want to say that there are no hard feelings. And everything is so cool'.
"He was like, 'Ah, thank you man, because I really thought you had a problem.'
"All he did at the time of Bo' Selecta was pick up on something any good comedian would do. If anything, it's a form of flattery."
The 7 Days star revealed that he had always been fine with the jokes, but that his PR team had encouraged him to act offended.
Craig said: "If I'm super honest, I was actually always totally cool with it.
"I remember growing up watching Spitting Image and so then when it was me, David Beckham, Mel B from the Spice Girls, all these massive names, being done it was fine. I was in great company.
"But my PR was trying to control everything and I was very media trained, very PR-savvy, and used to just give automated answers.
"After first inviting Leigh on stage with me at the Royal Albert Hall I was told to go the opposite way and say I was all hurt and upset by it, saying I wanted to punch someone.
"I didn't want to punch anyone! It was just people around me trying to amp it all up, fuelling the fire. It shows how much I wasn't in control at this time. I was all over the place, taking myself too seriously but, actually, it was all nonsense."