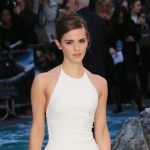 There's good news for budding actresses hoping to be the next Emma Watson as JK Rowling's Fantastic Beasts And Where To Find Them is holding an open casting call.
They are looking for a girl aged between the ages of eight and 12 to take on the role of Modesty in the film, which is based on Rowling's 2001 book and is set in the same universe as the Harry Potter series – but takes place 70 years before.
Emma was cast in the role of Hermione Granger at the age of nine at an open audition, alongside Daniel Radcliffe and Rupert Grint in the roles of Harry Potter and Ron Weasley. She has gone on to star in The Perks Of Being A Wallflower and The Bling Ring.
"Modesty is a haunted young girl with an inner strength and stillness," Warner Bros said in the casting call notice. "She has an ability to see deep into people and understand them."
Hopefuls are invited to attend London's Excel Centre Hall for a casting day on Saturday, July 18, and would need to be available to film between August 2015 and January 2016.
The girl who wins the part will join Eddie Redmayne, Katherine Waterson, Ezra Miller and Alison Sudol, who have already been cast.
Fantastic Beasts is set for release on November 18, 2016.