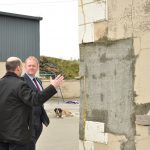 An independent panel of experts is to be established to address the defective blocks issue in Donegal.
Welcoming the announcement from Housing Minister Paudie Coffee, Mica Action Group Chair Phil Mc Daid said a number of issues need to be addressed.
They include the scale of the problem, a review of the building control system, research into technical solutions and an implementation Plan for recommendations.
The group is also calling for affected households to be exempt from Local Property Tax, and for other supports to be agreed.
Phil Mc Daid says this is a very significant step on what will be a long journey............
Mica Action Group statement in full -
The Mica Action Group (MAG) in Donegal welcomed this morning an announcement by
Minister of State Joe McHugh TD that the "Minister for Housing Planning, and Construction,
Paudie Coffey TD, will be establishing an independent panel of experts in order to address
the defective blocks issue in Donegal."
"This is a very important step in the MAG campaign for redress for affected homeowners in
Donegal. In setting up a panel, the Government recognises the magnitude of the issue we
are facing and is comparable with the process offered to homeowners in Dublin, Kildare,
Meath and Offaly, whose homes were built with defective subfloors, more commonly referred
to as the "Pyrite" issue" said Phil Mc Daid, Chairman of the MIca Action Group.
Whilst the terms of reference are yet to be established, MAG is hopeful that the following
points will be included in the issues to be addressed:
● Explanation of the problem of defective blocks in Donegal
● Emergence of the problem
● Scale of the problem
● Review of the building control system
● Stakeholder activity and responsibilities
● Research into technical solutions
● Recommendations
● Implementation Plan for recommendations
MAG will continue to work with the Government to ensure that the independent panel is
established as soon as possible, comprising of experts who are best placed to research into
the issues involved and investigatory work commences shortly thereafter.
The issue of Local Property Tax (LPT) remains an emotive outstanding issue and MAG has
proposed that Government suspend the forced collection of LPT from affected homeowners
whilst the panel carry out their research. Ideally, a swift resolution for the members of MAG
would be to call for an exemption for affected properties.
MAG has also asked Minister Joe McHugh to address MAG concerns surrounding the
casual actions of some stakeholders and assist affected homeowners by highlighting advice
in some key areas:
● Formal guidance to be given to homeowners regarding house insurance policies
● Government to advise insurance companies as to the obligation to provide basic fire,
flood, theft etc. cover
● Mortgage/finance providers must assist in ensuring that house insurance is available
● Impact of defective blocks issue on the rental of private (as well as social) houses
and the summer holiday let season
● Auctioneers and estate agents to be reminded of their moral obligations when
attempting to promote sales of property which clearly shows characteristic signs of
being constructed using defective blocks. Such practices carried by these
professional firms, as is currently noted as happening, must cease or promotors will
face financial and/or other penalties
● Owners of affected properties must be mindful of possible legal repercussions when
attempting to sell a house that may be affected with defective blocks
● Surveyors to be reminded to be objective in carrying out their professional duties,
provide clear advice based on the evidence available and cease making inadequate
statements
● All of the above should mitigate any future haphazard legal cases
The defective block issue is no longer solely an issue for private homeowners as Donegal
County Council (DCC) recently confirmed that their housing stock has also been affected.
There is also the possibility that public sector property may be affected. MAG look forward to
working in partnership with DCC to resolve this scourge for all affected people in Donegal.
MAG wish to acknowledge the work carried out by Minister Joe McHugh in highlighting these
issues, arranging meetings with government departments in Dublin and encouraging
Minister Coffey, to visit Donegal and see the issues for himself.
The continuing support of all Donegal TDs is appreciated and MAG will be meeting all
Donegal TDs together in due course to continue the campaign for the affected homeowners
in Donegal.