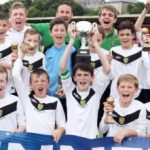 The next major event in the offing for the North West region, is the Hughes Insurance Foyle Cup which will take place all over the North west region of Derry, Strabane, Limavady, and Donegal from July 20th to July 25th inclusive. This event ranks as one of the most important in the year for those involved in hotel and tourism as annually it ensures that hotels in North West region regularly experience high occupancy levels throughout the full week of competition.
The event has attracted its highest ever entry of teams – 278 – and teams will travel across the UK and Republic of Ireland to compete with entries received from as far away as Finland, Canada and America. The tournament continues to support the development of Ladies football with no fewer than 24 female teams entered in this week long event.
Not only will teams travel in huge numbers to the city but all the major clubs in the UK will be present during the week to scout talent, focusing especially on that Ireland has to offer, hoping to find the next star player. Young players are 'discovered ' at this much scouted event with Micheal Martin ( Charlton), Conor Quigley ( Swansea), Aaron Mc Eniff ( Spurs) , Sean Mullan( Shef Weds), Stephen Foster (Swansea), Seanna Lynch ( Sheff Weds) Joe Crowe ( Norwich City) Ben Kennedy ( Stevenage) Cormac Derry, Levi Ives and Josh Lynch (all Torquay) all gaining professional contracts with Cross Channel clubs in last two years.
Michael Hutton Chairman of Hughes Insurance Foyle Cup commented,
" Hotels are reporting to me more than ever over the past few years and especially this year, that the major clubs in Britain are booking scouts into hotels, Manchester United, Liverpool, Arsenal, Chelsea, Spurs, Sunderland, Norwich City, Sheffield Utd, Blackburn Rovers, Celtic, Hearts, Rangers, and many others - will each have several scouts in the city, very much focusing on what Irish talent is available. More and more clubs are looking at the success of Irish players with Premier League club and are determined to find future stars – thereby saving themselves millions of pounds that their clubs cannot afford."
The Hughes Insurance Foyle has been a means into the professional game for so many players – Robbie Keane, John O Shea, Paddy Mc Nair, Darron Gibson, Shay Givens, Paddy Mc Court , Daniel Lafferty, James Mc Clean, Stephen Ireland, John O Shea, Kevin Kilbane, – to name but a few.
At the recent Press Launch for the event, former Rep of Ireland and football analyst Kevin Kilbane acknowledged the part that the Hughes Insurance Foyle Cup has played and continues to play in the development of young players for the International team. " So many of our current Irish team have come through the Hughes Insurance Foyle Cup. "I know the immense importance place on this event by professional clubs in England and Scotland, as each club ensures their scouts are in attendance throughout the week.
This is a high profile competition which is obvious from the clubs involved in it, and it is a wonderful testament to the strength of youth football in this region and a credit to all the people who have put so much work into it.
I know the years of preparation that goes into coaching the best out of our young players for this tournament. It is a great experience and preparation for players who will go onto gain professional contracts with cross Channel clubs."
The Hughes Insurance Foyle Cup began in 1992 as a one day 8 team event and has blossomed into one of the most highly respected and biggest tournaments in the Britsh Isles.
Chairman Michael Hutton, added, " There can be no doubt the respect that the Foyle Cup has gained over the years. Our economy has been in a deep recession and yet the tournament continues to grow and prosper. This year we have 278 teams competing, which had been our highest entry. The entry level in terms of the number of teams competing has doubled in the last four years. This level of interest generates huge spending in the local economy , estimated at in excess of £1,600,000. Why do so many teams want to identify with the event? There are a number of factors. The warmth and hospitality afforded all its visitors by the local people; the quality of service and accommodation provided by local hoteliers and B&Bs; the high standard of playing surface evident throughout the event; the friendly yet competitive nature of the football played and lastly but by no means least, the planning, administration and organisation that goes into the event by so many of us who give of our services in a totally voluntary basis. There are no paid employees in the Hughes Insurance Foyle Cup – just a band of volunteers who strive hard to put on an event that all of us can be proud of and which puts forward a positive image of our city and the North West region. "
Mr Hutton in conclusion, acknowledged all those who are contributing to ensure the event will be as successful as it was in previous years - Derry City and Strabane District Council Council, Department for Social Development, Department of Culture & Leisure, Tourism NI, Limavady Borough Council, OFMDFM, Hughes Insurance, Legea, Seagate, E&I Engineering, PSNI, Inner City Trust, Brunswick Superbowl and Derry Credit Union.
More details regarding this year's event can be viewed on tournament website www.foylecup.com or Tel 02871359734