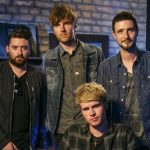 Kodaline may have first come to public attention almost a decade ago on Ireland's You're A Star – an X Factor-alike talent contest – but the band don't think they'd take their chances on The X Factor today.
As X Factor auditions get under way, Jason Boland, who plays bass in the band, revealed: "I don't think The X Factor would really suit us very well. It's just all about doing covers, and we're very much about playing our own music."
Kodaline, originally called 21 Demands, competed on the 2006-07 series of the show on RTE, where they performed original songs: "For us that was really the draw, it was the chance to get out and just practice playing our music in front of people."
Speaking about taking second place, Jason added: "We still think it was a great opportunity for us, we're very grateful to them for having us back then, but if we had won it that year – well, I don't think we were ready to be an international band. We took it as a learning experience more than anything else."
Two albums later, the band have hit their stride and are set to play Kendal Calling and V Festival later this summer – though they still like to play smaller venues when they can: "Ten people is just as much fun as 10,000."
Last week they played an acoustic session at Black Space in Shoreditch, London, where they hit Brick Lane's food stalls before taking to the stage. Jason confessed: "We're really bad, we know we shouldn't eat before gigs, but we usually do.
Now summer's here, the band are spending two or three days a week in the recording studio, working on their third album, which they hope will have a more "cohesive sound" – although the four of them will never quite agree on what that sound is.
Jason explained: "I think that's half the charm of it. We keep each other on our toes. We never finish a song if we don't believe in it."