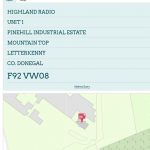 The Communications Minister will launch Ireland's first national post code service today.
2.2 million homes and businesses across the country will be assigned an individual 7 digit 'Eircode' - which they will receive in the post in the coming weeks.
The optional service has cost over 20 million euro and is aimed at reducing confusion surrounding non-unique addresses.
Some 27 million euro has been spent on the Eircode scheme so far - which will see a seven digit code assigned to every property in the country.
Some 35 per cent of address in the State are not unique - and the scheme has been created to address that issue.
Dublin's codes will start with the letter D - with current postcodes like Dublin 1 becoming D01. Cork City is expected to get the letter T - while Galway to get H.
Sligo and Donegal's identifying letter is 'F', for example, Highland Radio's postcode is F92 VW08