Ostan na Rossan has been bought by a Chicago based businessman whose father emigrated from West Donegal in 1946.
Kevin Boyle, the President and CEO of the Schulze and Burch Biscuit Company confirmd the purchase of the hotel at the weekend for an undisclosed sum.
In a statement issued to Highland Radio News, Mr Boyle said he is pleased to be in a position to make an investment in the Rosses, with the intention of refurbishing and remodelling the premises.
We understand 35 jobs are envisaged.
Former MEP and Junior Minister Pat the Cope Gallagher says this is bvery important news for Dungloe.....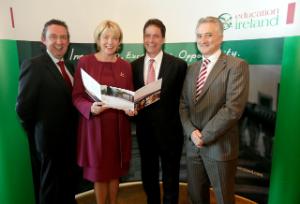 Kevin Boyle (3rd from left) with LYIT President Paul Hannigan, former Tanaiste Mary Coughlan and LYIT Head of Development  John Andy Bonar at a breakfast meeting in Chicago in 2010.