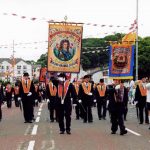 Security's been stepped up in Northern Ireland as the Orange Order hold their annual '12th' celebrations.
The marches are traditionally held on the 12th of July each year.
However, when they fall on Sunday, the march is held on a Monday, as is the case today.
A total of 3,000 PSNI officers will be policing parades across the North later, with the largest presence at three flashpoints in north Belfast, east Belfast and in the city centre.
The man Derry parade is taking place in Coleraine, the Tyrone parade is in Fivemiletown and the Fermanagh parade is in Kesh.
Feeder parades will take place in many towns and villages this morning as Orange Order members make their way to county demonstrations, and again this evening as they return.