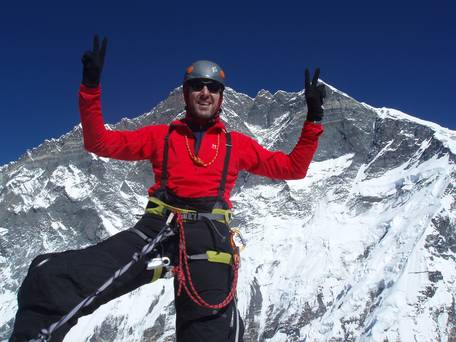 Donegal mountaineer Jason Black is currently undertaking his most dangerous challenge to date - climbing the world's second highest mountain k2.
Highland Radio is following Jason's epic adventure every step of the way. Tune in the Lee Gooch Show after 5pm each day for an exclusive on-air audio blog from Jason (when signal permits).
You can also bookmark this page and check back later for the very latest..
Jason Black's epic adventure continues - he has filed this up date for us via satellite phone:
14/7
12/7
Friday morning started 5.30am with hot porridge,boiled eggs & green tea. 6.10am bags fully packed four of the seven summit team were off to camp one at 6000 meters commencing rotation one for acclimatisation. Heavy loaded with supplies food for a later summit push a second sleeping bag blow up mat to keep your body at from the frozen ice ,crampons (12 pointed spikes attached to your 8000mter monster boots , climbing harness & ropes & rigging ice screws ice axes fuel stoves etc anyway you get the picture heavy ass load.from basecamp at 5000mts we reached advance basecamp at approx 8am where we had to navigate our way through a huge ice fall ,up down back and fourth trying to find the easiest route. At 5300mts just above advance base camp i put on all my technical climbing gear and with in minutes I could see what lay a head, raring up in front was a 70% pitched climb that had no relief no stepping off, it was pretty fully committed. Weather was over cast cloudy and cold ,perfe ct really. Now let me put 6000mts in context, being at 6000meter is higher that any mountain in Europe any mountain in Africa and its only camp one (C1) on K2, i hope in someway this paints some type of picture of the magnitude and scale of this savage mountain, it is ginormous. Climbing now with heavy loads was really tough counting in steps of four kept my momentum going upwards pausing after every four gasping for breath and willing the body on and on. 700mts took me a painful 4hours non stop, physical ability was right on the limit and times in the red and balancing that chimp in my mind telling me to stop, give up & all the time digging deep into that purpose built memory bank of positive thoughts of strength & self belief. Visibility was zero with low cloud not that embracing spectacular views was high on my agenda, snow was forecast for late Friday night with gentle winds. Mother Nature a law on too herself, snow started 10am with gusting winds making the final sections more challenging than needed on this now wrecked tired donkey. Twelve noon four of us in one tent ,stove lit ,ice melting we rolled out the sleeping bags discarded no clothing "as its now super cold" packet soup mixed with dried noodles got the screaming body fed & washed down with wispa hot chocolate. By now it's snowing really hard and the winds have picked up storm like. Got a satellite phone call away to Sharon reporting all was well in the team & all four members were performing well. Well before long the wheels slowly came of the kart, 6000metres was starting to take it twol on my body, my stomach was in knots & I developed a mild headache, not what I wanted to feel," reliving sickness memories from Everest". Testing my blood oxygen saturation levels I recorded my pulse at rest 90bpm and O2 in my blood 50% testing it twice hoping it was as faulty reading. So what does this mean, simple in normal sea level circumstances we have 100% 02 in our blood stream supplying our vital organs to live well now I had half that, not good. The end result if not treated could be swelling of the brain with a lethal outcome. So I'm at 6000mts deep in a storm,sleeping was not an option im now my own doctor nurse consultant . Stabilising the headache with some drugs & deep breathing to increase 02 in my blood cells helped, watching every hour pass until day li ght brewed up some hot tea. The night was positive as an altitude gain but extremely bruising on the body. Leaving our high altitude food along with our wet sleeping bags in the now permanent tent for our next rotation in a few days time downwards was a welcomed direction. Stepping out of the tent the wind and snow was in full force making life grim placing on our spiked crampons ice axes in hard to self arrest if need be we descended twelve long absails later we reached 5300meter advance basecamp, two hours later I stumbled into basecamp slaughtered battered & bruised "reminded that this was no ordinary playing field" waking up five hours later still in the same clothing I felt better and went straight into self recovery mode with increased fluids small regular food intake. All of us has our own battles that day some got it easier that others but none walk out of that battle field without a scare or two in my case. Never especially so early on did I think I would have to di g so deep into the back of beyond to help me through this phase ,but then again When you have a title as the savage mountain , what else did I expect,a walk in the park, didn't think so…… That night I didn't need no rocking tweleve hours straight was like a flicker ….the next few day's here at basecamp my aim is to rest & recover as my next weather window is Tuesday morning "as the snow continue until then" returning to camp one sleep over ,Wednesday push higher to 6700meters and sleep Thursday morning touch 7000meters below the black pymirmid drop down again to camp two at 6700meters sleep in still in good condition and Friday morning continue to descend to advance basecamp and finally basecamp let the body physically and mentally recover before the final push in a few weeks time…
9/7
Today Thursday 9th July … First night at basecamp proved a great success with a full nights sleep 7pm to 7.30am. No effects from increased altitude proving that while the trek in was long and arduous it was successful allowing the body to positively adjust to the now height of 5000mts above sea level. Last nights sleep was very cold but with a soon filled pee bottle my sleeping bag quickly heated up. Suns up at 7.30am and as it blisters through your tent at 5000mts sucking all the oxygen out it soon forces you up and out. Breakfast was at 8.30am made of fried spam "fried tinned ham" boiled egg & toasted flat bread with copious amounts of lemon tea. After breakfast and in keeping with Nepali climbing culture we set about building the Pudja alter ," for those first time followers" a Pudja alter is a square rock build from around the ground it must face the mountain k2 in this case. In the centre of it stands a flag pole with all the prayer flags drape the camp sight in the four directions " North, South, East & west" each pray flag resembles five quality so in life – green blue yellow red white. Google them and see. Once the alter is built the Sherpa offer up tokens of food & drinks rice & butter along with a small money donation. There after we the climbing team place important mountaineering equipment at the foot of the alter, so I place my ice axe crampons ice screws rope & IRL helmet & boots, then we all gather around as a united team and the head Sherpa prays allowed to Buddha asking for a safe passage to the summit protecting each member on a successful journey. After Pudja prayers he marks each climbers face with the offered flour placing a blessed " by a Nepali lama" cord around your neck. It's a very serious process and understandably it's another religion and while I have a wonderful relationship from my maker above, I'm sure he wouldn't dismiss a helping hand, and who am I to judge because when in Rome you do as the Romans do. After a quick bite of lunch noodle soup , lovely again it was off to advance base camp at 5300mts approx 4km climb to the head wall at the top of the glacier. Navigation was difficult as it was dangerous with deep cracked ice with deadly drops of 200 meters which we call crevasses. The objective today was to move up in altitude & while looking on from the outside it appears to be only 300mts at this height it's enough to cause serious health damage to the brain swelling or the lungs filling with fluid, so slowly slowly is the correct approach. Three hours later and from advance basecamp the views below us were just incredible with Broadpeak mountain 8050mts on our right and K2 8611mts on our left and beyond the surrounding mountain range created this remarkable theatre. On returning to camp two of the climbing team still ramained sick from altitude and it was decided the the four strongest climbers push early Am "5am" to camp one at 6000mts ,carrying tents sleeping great all climbing technical equipment "ice axes harness helmets crampons etc" food stoves and fuel where we will spend an over night sleep which will really accelerate the gains in altitude or possibly the opposite. Anyhow it great news as i depart on the next stage of the expedition setting foot on that mighty mountain K2. Leaving early in the morning ensures the ice is at its coldest & firmest helping safety under foot. It's time for an early night , I'll post on my return on Saturday night. Jason
3/6
It is Day 14 of Jason Black's epic adventure  - he has filed this up date for us via satellite phone:
30/5
Latest from Jason's Blog 'Relief as the transit permit to move to basecamp'
Stopover in Skardu was wonderful, a fantastic opportunity to get up close with the locals in the town and capital of Skardu District, in Gilgit, Gilgit-Baltistan. Skardu is in the 10 kilometres wide by 40 kilometres  long Skardu Valley, at the confluence of the Indus and the Shigar River.Skardu is at an altitude of nearly 2,500 metres (8,202 feet) . The town is surrounded by grey-brown coloured mountains, which hide the 8,000 metre peaks of the nearby Karakoram range. There are three lakes in the vicinity: Upper Kachura lake, Lower Kachura Lake, and Sadpara Lake. This small village placed at the end of civilisation for mountaineers on route to Broadpeak K2 Gashu brum 1 & 2. The locals here have embraced the mountaineers over the years as they realise its importance as it boosts the economy. Freely waking around were met with a very friendly wave & salam malaiku (hello) as both sides of the main street approx 1km long trading chemists ,drapery, elecectical,fresh fruit stalls motor mechanics and butchers with freshly hanging meat as seam to operate seamlessly.
Yesturday the final provisions for base camp and high camps were bought locally , spending the evening putting rice potato veg meat snacks teas coffees & so much more were all stored safely in large blue barrels. Similarly the tents Gas & cooking equipment along with our oxygen & masks of high altitude were all tested and assembled. Today once clearance came through the jeeps loaded with the hard wear left for the famous road from Skardu to Askole and in the morning early we also will follow on the 6 hour journey. Form Askole were operating self sufficient camping & cooking as we move up the 80km trek on the Baltoro glacier to our final destination K2 base camp.
Once their ill give an update.
In shallah
29/5
Jason's latest audio update
28/5
Day 5 & 6 of the K2 Expedition 2015.
News filtered through late Friday night that the long awaited journey to Skardu village at the base of the Bolero glacier, the starting point of the long trek to K2 Basecamp was not now possible. In a most heavy debate & heated raised voices between the logistics crews & the Sherpa team that it had now become very obvious that the dreaded drive through the most dangerous valley in the world was just about to unfold. Named the Karakoram highway nick-named the KKH and home to the Taliban. In 2013 eleven international climbers on route to the mountains on the KKH were highjacked tortured and shot dead.
The Taliban have one mandate as extreme Islamics to keep their territorial areas free from western world influences and to murder outsiders.
With heavy hearts we loaded up the bus and set sail, shortly outside of Islamabad, a Pakistan liaison officer "who had to negotiate the checkpoints on our behalf" calmly stated that's where Sadam Husain was captured & killed. We were in a village called Abbottsbad on route to our stop over in Besham village which we arrived at after 10hours in the sweltering heat. After a beautiful bit of Pakistani food made up of local rice chicken with a spiced sauce and finished with what looked like custard which was just perfect. The bus outside now was under armed guard being protected for the night. With less than four hours sleep and two fried eggs with nan bread, washed down with a local chi milky tea for breakfast we departed at 4.30am.
A decision was taken to get a jump on the rebels, as we pulled out of the overnight basic but nice & very friendly accommodation, an armed police officer brandishing a shot gun & cool as a cucumber sat down beside me and we're off. Yes I thought, Jesus you wouldn't see it in a film. Check points came fast & thick and more welcomed armed police arrived until we were escorted front and back with heavily armed officers.
By now the silence on the bus was very noticeable as we were in the Taliban's back door, up through the valley we followed the winding dirt road passing through sparatic mountain villages where we could see that we just didn't fit in- obvious in the stares, that said an odd wave let us know that not everyone was hostile to our passing. It was the longest bus ride of my life as we felt we literally had our life in their hands.
The valley of region was so barren with the Indus River as our guide and the surrounding huge mountain range of the Himalayan Range on the right & the Karakoram Range on my left I could see how dealing with these extremists in their own environment must be practically impossible.
After 14 hours , yes 14 hours we got through the worst bit and turned off the KKH on the final leg of the journey toward our final destination, Skardu ,which was a further 5 hours away on mountain torn dirt roads.
With short stops for relief , a stretch and snacks we rolled into Skardu village at 1.30am, 21 hours later ecstatic with relief that we made it through hassle free but exhausted like doing 10 rounds with Mike Tyson.
Departing the bus I couldn't but think of the two days and how in God's name I could put into words & explain what had just unfolded.
I laughed as I said ,"it was like something from the movies".
Today was a really serious day which lived up to its reputation, that aside there was a bright side as I got an opportunity to see & experience the coal face first hand and witness how resilient once again the human race can be , as these people cut off from the outside world can live and survive under a curtain of hardship.
Like all torn nations dealing with conflict there is always a small minority creating mayhem. I have to stress that the vast majority of Pakistani were warm , caring and very welcoming people in a vacuum of media negativity from the troubles that's not accurate in the whole.
The freedom of speech, movement and fair trade we enjoy at home, sometimes a democracy we take for granted as a modern nation.
I'll never complain about that No. 32 Bus Eireann bus again.
Pakistan oh Pakistan "what can tomorrow have in store".
The K2 expedition continues….
Jason