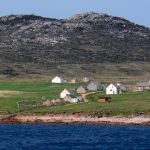 The government is being asked to give more support to Owey Island after Junior Minister Joe Mc Hugh visited the island this morning.
Following a meeting of Donegal County Council's Islands Committee in Glenties recently, Cllr Michael Colm Mac Giolla Easpaig invited Minister Mc Hugh to see the island and meet the people there.
This morning, he did so, aling with Donegal South West TD Thomas Pringle.
Cllr Mac Giolla Easpaig says it was a constructive meeting..........