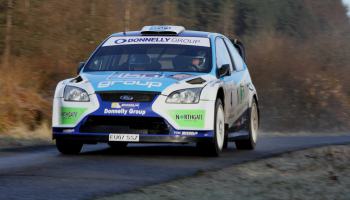 Declan and Brian Boyle won the Sligo Stages Rally by just over 30 seconds but second placed Donagh Kelly and Kevin Flanagan (pictured) were still celebrating as they had done enough to lift the Triton Showers National Rally Championship.
Kelly and Flanagan, in their Ford Focus WRC, led early on but took no chances after the Boyles took the lead after Special Stage 7 in their Ford Focus WRC.
Niall Maguire and Enda Sherry in a Subaru S12 were third while Declan Gallagher and Ryan Moore in their Toyota Starlet were fifth overall and won Class 13R.