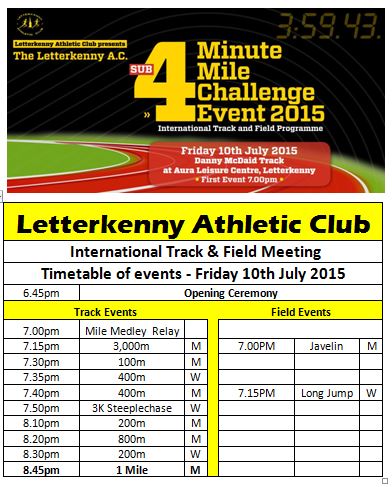 Three Irish athletes got their qualifying times for the 2016 Olympic Games in an exciting 3,000 metre steeplechase event at the Letterkenny AC International Track and Field Event at the Danny McDaid Track in Letterkenny on Friday evening.
The trio of Kerry O'Flaherty (Newcastle AC, 9.42.61); Michelle Finn (Leevale AC, 9.43.34) and Sara Treacy (Dunboyne AC, 9.44.15) were all clearly delighted with the outcome.
They finished second, third and fourth respectively behind Jamie Cheever of the United States who ran a blistering 9.40.9.
The runs by Finn and O'Flaherty were also inside the qualifying mark set for the World Championships in Beijing in August.
Meanwhile, South African Lebakeny Sesele set a new track record by winning the 100 metres in 10.36 seconds.
In the feature Sub-4 Minute Mile Challenge, American Jon Peterson, won the race in 4.00.07 - just missing out on getting under the four minute mark.