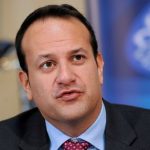 The Minister for Health is being asked to outline the extent to which funds to the NoWDoc service in Donegal have been cut.
Donegal South West Deputy Pearse Doherty tabled the question after reading a 2012 report commissioned by the HSE which rejected proposed changes to overnight services in Derrybeg and Carndonagh as "unsafe".
Deputy Doherty says he sees no difference between the situation then, and the situation now, with Caredoc, which administers the Doctor on Call service seeking to make changes.
He believes funding is at the core of the issue, and wants Minister Leo Varadkar to address this as a matter of urgency.........