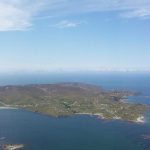 A prominent campaigner for investment on Aranmore Island has said politicians from successive governments should hang their heads in shame for their failure to bring broadband to the island.
Gerry Early of Arranmore Co-op says investment opportubnities have been lost as a result of the lack of broadband facilities.
Speaking to Greg Hughes on the Weekend Edition which came from the Swell Festival on the island today, Gerry Early said the island has not received the attention it deserves............