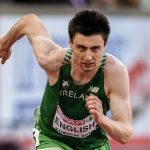 Mark English had to settle for third spot in the 800m at the Cork City Sports last night.
The race was one of the highlights of the event - Michael Rutt of the US was first in 1.47.57 - ahead of Denmark's Andreas Bube and then English.
The Letterkenny man is back on his travels today. He's off to Estonia where he runs in the heats of the European U-23 800m tomorrow.