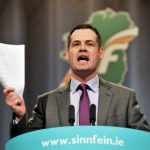 Sinn Fein has launched a campaign in Co Donegal aimed at building wide public support for a fair recovery.
The campaign is entitled 'A Fair Recovery is Possible', and it will see the party engage with people on the doorsteps across the county.
The party will also be handing out thousands of leaflets across Donegal in the coming weeks.
Speaking to Highland Radio News, Deputy Pearse Doherty explained that this was more than the party simply launching their general election campaign..........