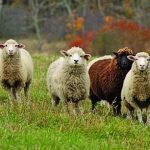 The Seanad has been told that there are 450,000 sheep in Donegal, over 12% of the national stock., and a drop in lamb prices in the county is having a serious impact on farmers in the county.
Senator Brian O'Domhnaill says government intervention is needed.
The price is below 5 euro per kilo at present, he said, and that's not sustainable.
Responding, Junior Minister Anne Phelan made no commitments, but indicated a report on the future of the agri food sector has a number of recommendations to make for the sheep sector.
She said farmers can introduce technical efficiencies, and added that while prices have fallen, they are showing signs of improvement.
The debate in full can be heard here .....