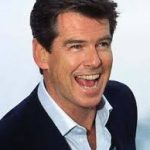 Pierce Brosnan has been gracing our shores a lot lately filming his new movie 'I.T.' on location in Dublin.
And according to his Instagram acaount, he's been enjoying every minute of it.
When he's not busy working, he's been spending quality time with his wife Keely reliving his Irish childhood.
Pierce was born in Drogheda, Co. Louth, but lived in Navan, Co. Meath, for 12 years and considers it his hometown.
The pair visited Athlumney Castle beside the "country lane of [his] childhood", before taking a stroll around Navan.