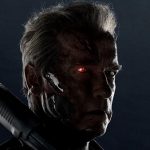 It was dinos vs feelings at the box office this weekend, and it looks like those terrible lizards prevailed.
The Fourth of July weekend has always been a major release window for movies in the States and this year saw Terminator Genisys and Magic Mike XXL arriving for a box office duel. But it turns out neither had the power to really go the distance, with the final fight coming down to a face off between Inside Out and Jurassic World - in their third and fourth weeks on release respectively.
It's not much of a surprise then to see that World won yet another weekend, though this time it was really close. Universal's action romp scored $30.9 million, while Pixar's cerebral latest added $30.1. The difference in total box office though is massive - Inside Out has $363 million worldwide (though its missing several territories) and Jurassic World has a stupendous total of $1.385 billion.
That puts the dino movie at 5th place in the highest grossing movies of all time, just edging out Avengers: Age of Ultron and a mere $130 million behind Universal stablemate Furious 7. With all of its markets now open it's not yet clear if it has the staying power to make that figure up, or to challenge the might of The Avengers at $1.518 billion. Either way, the number 2 place of Titanic at $2.186 billion isn't in any danger.
Jurassic World has also crossed the $550 million mark in the States after just 24 days, another record for the spectacularly successful film.
Where does that leave Terminator Genisys, the latest big screen outing for the now three decade old franchise? For the five days over July 4th it made $129 million worldwide in a large number of territories. It only netted $44 million of that in the US, showing just how important international markets are for major movies these days. Big territories included Russia, Korea and Mexico and it may yet have leg, certainly enough to get a decent payout on its fairly low $155 million budget.
Magic Mike XXL didn't end up bothering Arnie too much, giving primarily female audiences an alternative to bots and beasts. It pulled down $26.6 million in the States and $32 million overall. That's a chunk less than the first film back in 2012 but it's still comfortably more than the very low production budget.
Ted 2 rounded out the top 5 in the US, with $11 million to come close to $100 million worldwide. It opens in Ireland this week.