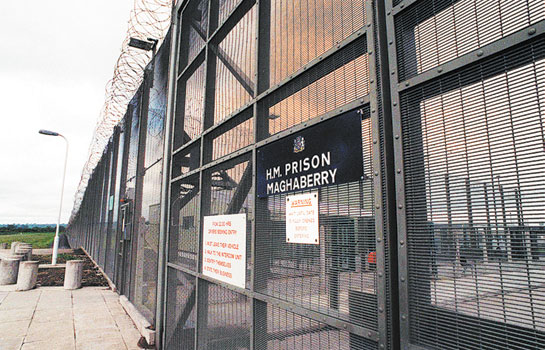 Two Derry men have been sentenced to a total of 40 months for having a handwritten note which they attempted to smuggle into the dissident republican wing of a top security prison.
Both defendants had previously pleaded guilty to possessing a "handwritten note in circumstances which gave rise to a reasonable suspicion that its possession was for a purpose connected with the commission, preparation or instigation of an act of terrorism''.
Thomas Ashe Mellon (39), of Rathmore Road and William McDonnell (28) from Culaduff Gardens, had pleaded guilty to having the note in June last year.
McDonnell was searched on his way into Maghaberry prison on the 5th June to visit an inmate.
The note was written by Mellon on cigarette papers joined together and wrapped in cling film.
Mellon was sentenced to two years and four months, McDonnell was given 12 months.
Both sentences are to be served half in jail, followed by half on licence.
Both defendants will also be subject to a Terrorist Notification Order for 10 years which helps monitor their movements.