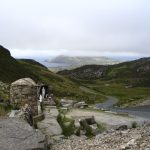 It's emerged that Bus Eireann will not use Mamore Gap for school buses, but will continue to use it when measuring routes to determine the closest school to pupils' homes.
In the Dail this afternoon, Deputy Charlie Mc Conalogue again raised the fact that pupils from Urris outside Clonmany will now have to go to schools in Buncrana rather than Carndonagh if they want to avail of subsidised transport.
However, Junior Minister Damien English said the government will not intervene, as the ruling is in line with regulations introduced by previous Education Minister Mary Coughlan..
Responding, Deputy Charlie Mc Conalogue pointed out that whe the gap is not used, the distance to Buncrana becomes longer and more expensive.
Minister English told the Dail the fact that some pupils from the area were facilitated to go to Carndonagh this year as a result of an error, and that is being rectified from the start of the next school year........