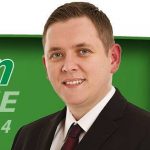 Donegal Councillor Gary Doherty says if people vote strategically at the next General Election, then Irish Water can be defeated.
A Red C poll published today in the Sunday Business Post showed a 5% rise in support for independents, but a three point drop for Sinn Fein.
However, Cllr Doherty says he believes the announcement on Friday that outstanding bills could be taken from pay packets and welfare payments will galvanise people's opinions.
He says the sooner there is an election, the better............