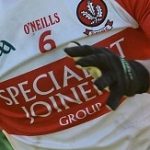 Derry took a major surprise win over favourites Donegal in the Ulster Minor Championship on Saturday in Clones.
The 0-11 to 0-10 win has put Derry back in a final for the first time since 2007.
On Sunday the 19th July they will play Cavan in the opening game on Ulster Final day...
Derry Manager Damian McErlaine says the hard work over the last few weeks paid off.....