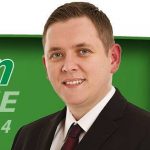 The 'We Wont Pay' campaign is holding a bonfire at Limerick City Hall this afternoon to burn water bills.
The group is touting it as the 'biggest bonfire in the history of Limerick'.
Yesterday the government published legal amendments to legislation to allow bills be deducted from wages or welfare.
It'll also force landlords to pay if tenants haven't done so.
A protest against the new measures will take place outside the Dail on Wednesday. Donegal Councillor Gary Doherty says the proposed law is draconian............