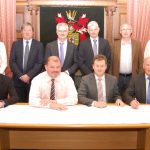 Donegal County Council has just released details of two major road projects commencing shortly.
When completed the N15 Blackburn Bridge Phase 1 Scheme and the N56 Boyoughter to Kilkenny Scheme will see significant improvements to two crucial routes in east and west Donegal.
The work will take place on the main Ballybofey to Donegal Town and Glenties to Dungloe roads and will last 12 months and 18 months respectively.
The N15 Blackburn Bridge Phase 1 scheme is located approximately 2km south of Ballybofey and will replace the existing narror road which no hard-shoulders or verges.
Two fatal accidents have occurred on this section in the last ten years.
The proposed scheme is 2.5km in length and will involve widening and realignment to a 7.3m carriageway with hard shoulders.
Works are expected to commence in July 2015 and take 12 months.
There will be some, occasionally significant, disruption to traffic during construction.
The N56 Boyoughter to Kilkenny scheme is located approximately 12km south of Dungloe through the village of Lettermacaward and including the Gweebarra bends.
The scheme will involve widening and realignment and will also provide a cycle track for its full length,
Project construction will commence this month and last 18 months.