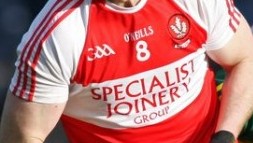 The Derry team has been named for Saturday's Ulster Semi final with Donegal in Clones.
It shows just one change from the team that defeated Down last time out.
Cailean O'Boyle comes in to replace Benny Heron in the forward line
Mark Lynch will again captain the team from centre half forward with speculation that Brendan Rogers could be deployed to man-mark Michael Murphy
Certainly, Derry manager, Brian McIver, is very much aware of the Donegal threat, and in particular, that of Murphy.....
Donegal v Derry in Clones will be LIVE on Highland Radio this Saturday 27th June from 7pm with Oisin Kelly & Rory Kavanagh in association with Brian McCormick Sports & Leisure Letterkenny.
Derry team to play Donegal in Ulster SFC Semi Final
1. Thomas Mallon / T Ó Maoileoin (An Lúb)
2. Oisín Duffy / O Ó Dubhthaigh (Forghleann)
3. Brendan Rogers / B Mac Ruaidhrí (Sleacht Néill)
4. Dermot McBride / D Mac Giolla Bhrighde (Baile na Scrine)
5. Kevin Johnston / C Johnston (Dún Geimhin)
6. Chrissy McKaigue / C Mac Thaidhg (Sleacht Néill)
7. Ciarán McFaul / C Mac Phail (Gleann)
8. Niall Holly / N Holly / (Eoghan Rua)
9. Fergal Doherty / F Ó Dochartaigh (Baile Eachaidh)
10. Sean Leo McGoldrick / J L Mac Ualghairg (Eoghan Rua)
11. Mark Lynch (C) / M Ó Loingsigh (Beannchar)
12. Enda Lynn / E Loinn (Grainloch)
13. Daniel Heavron / D Heavron (Machaire Fíolta)
14. Eoin Bradley / E O Brollachain (Gleann an Iolair)
15. Cailean O'Boyle / C O'Baoighill (Leamhaigh)