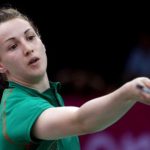 It's been a mixed day for the Magee family from Raphoe at the European Games in Baku.
Sam & Joshua are through to the Badminton quarter finals of the Men's Doubles.
The Donegal pair won their match this morning in straight sets 21-7 21-16, beating a Czech pair.
Chloe Magee took her second win of the tournament beating Belgium's Tan Lianne in three sets, 21-11 20-22 21-12.
Unfortunately for Chloe the win wasn't enough to progress to the knockout rounds.
In the Women's Doubles, Rachel Darragh and Sarah Boyle lost their group match this morning in straight sets.